NFL players don't walk onto the field as rookies and immediately become stars. They have to prove their worth on the field. Some have to bounce from team to team, and some were never even expected to be stars in the first place. Everyone gets there a different way, and every story is unique.
The 2018 NFL season has seen its share of breakout players. Some are rookies who were highly-anticipated but had to prove it on the field, while some were players once feared to be busts but finally put it together. Others were never expected to be anything more than squad players or roster filler, but have shown themselves to be capable of a whole lot more.
Here is each team's biggest breakout player from the 2018 season.
Arizona Cardinals: Christian Kirk, WR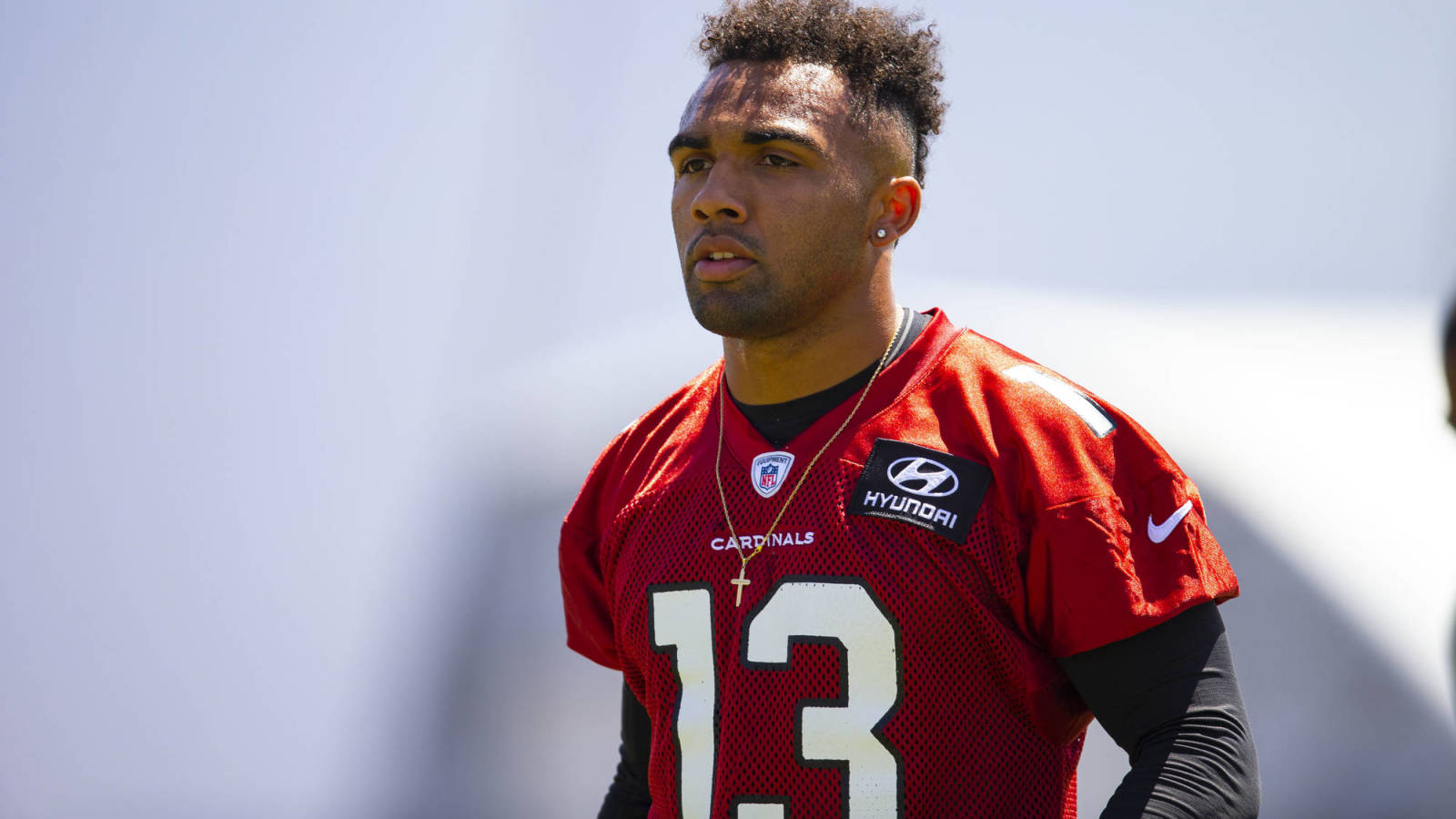 Mark J. Rebilas-USA TODAY Sports
The rookie was only a second-round pick, but Kirk has offered the Cardinals some hope that their offense has a future beyond just Josh Rosen. He's still searching for his first 100-yard game, but he has several solid outings to his name and has caught three touchdowns. He's quickly become one of Rosen's favorite targets and has racked up 536 yards receiving. He could end up in the 800-yard range when his season is over — a very solid rookie campaign.
Atlanta Falcons: Damontae Kazee, DB
Kazee has moved into a starting role for Atlanta this season and responded in a big way. The second-year safety has a league-leading six interceptions, establishing him as one of the league's premier young ballhawks. Add in eight passes defended and a forced fumble, and you have a safety who can really mess with the opposing team's offensive game plan. 
Baltimore Ravens: Za'Darius Smith, LB
The Ravens have another strong pass rusher, which is just what they needed. After a 5.5-sack rookie year in 2015, Smith hadn't made the same impact until 2018, when he's already matched that previous career-high and did so in just nine games. He also has 13 quarterback hits, just three shy of matching his career-best set last year. Only 26, Smith still has a lot of room to progress, and a bigger role could be in his future.
Buffalo Bills: Tremaine Edmunds, LB
Edmunds was a tackling machine at Virginia Tech, and that skill has very much translated to the NFL. The Bills look to have a steal in the rookie linebacker, who has 78 total tackles in 10 games so far to start his NFL career. Bigger plays may be in his future — he only has one sack, but has forced two fumbles — but his ability to read and impact the game at such a young age is not in any question. 
Carolina Panthers: Mario Addison, DE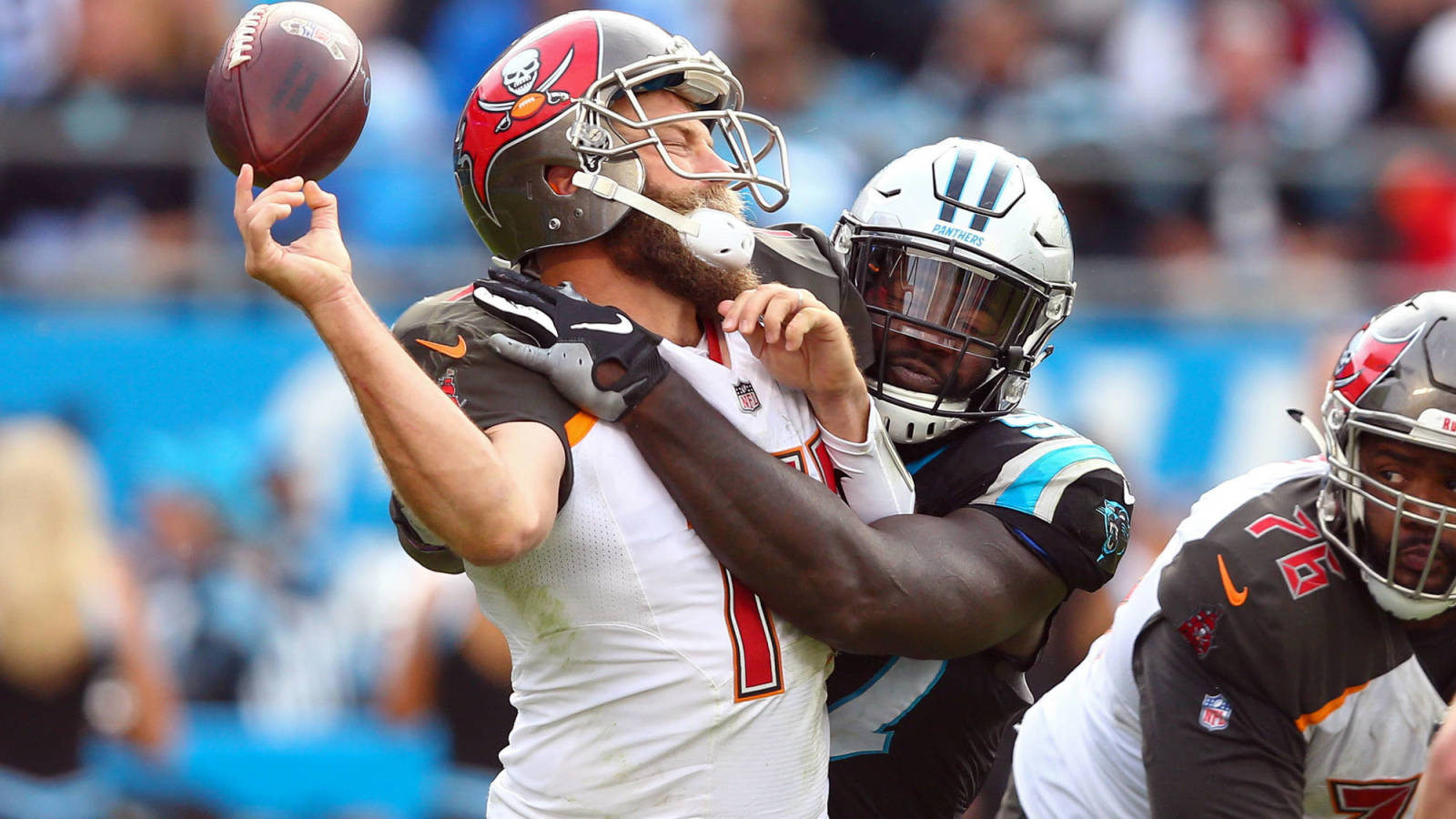 Nov 4, 2018; Charlotte, NC, USA; Carolina Panthers defensive end Mario Addison (97) causes Tampa Bay Buccaneers quarterback Ryan Fitzpatrick (14) to fumble in the third quarter at Bank of America Stadium.
Jeremy Brevard-USA TODAY Sports
It's rare that anyone in the NFL really breaks out after their 30th birthday, but that's exactly what Addison has done. He had 11 sacks last year and 7.5 sacks this season. His season has ensured that his sack totals are not viewed as a fluke and has established him as one of the NFL's leading defensive linemen. Add in a pair of forced fumbles and nine quarterback hits, and you have a big part of why Carolina has been good.
Chicago Bears: Trey Burton, TE
No matter what else he does in his NFL career, Burton will forever be remembered as the guy who threw a Super Bowl touchdown pass to Nick Foles on the now-iconic Philly Special play. That's all well and good, but it won't pay the bills forever. Now with Chicago, Burton is reminding everyone that he's also a pretty good tight end. His 448 receiving yards are a career best, and his five touchdowns match his total from last year. Mitchell Trubisky seems to like throwing to him, too.
Cincinnati Bengals — Tyler Boyd, WR
Boyd's third NFL season is already his best. Through 11 games, he's posted a career-high 841 yards and six touchdowns. Only A.J. Green has been targeted more by Andy Dalton this season. With Green going down to injury, Boyd's role might be set to increase — really setting himself up for a big finish to his third year. His emergence has given the Bengals a big alternative option to Green, and that's going to come in very handy now.
Cleveland Browns: Nick Chubb, RB
The Browns knew they were getting a good running back in Chubb when they chose him in the second round of April's draft, but he had an injury history from his time at Georgia. They eased him in initially, but by October, he had made himself impossible to ignore, and the Browns opened up a starting spot for him. He's responded with a series of huge games and already has 663 yards and six touchdowns. He also has two receiving touchdowns. A 1,000-yard rookie campaign looks to be in his future.
Dallas Cowboys: Byron Jones, CB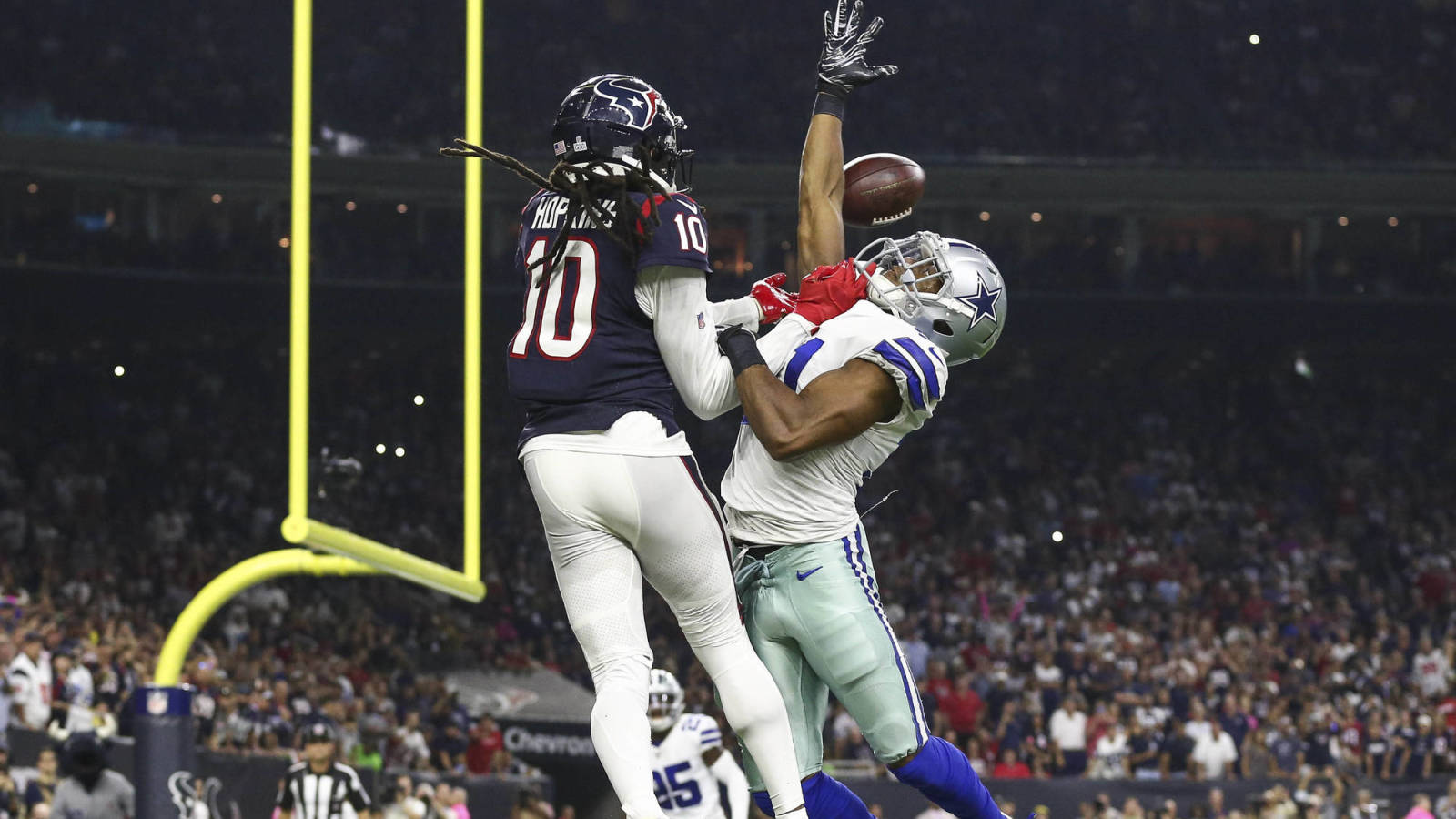 Troy Taormina-USA TODAY Sports
After moving Jones around the secondary, the Cowboys finally settled on him as a cornerback, and the move looks to be paying off big time. The fourth-year defender has developed into a quality cornerback who can play a big role in erasing the opponent's top offensive target. He only has 10 passes defended, but teams aren't really testing him much anymore. If he could start to pick off some passes, we're looking at an elite talent.
Denver Broncos: Phillip Lindsay, RB
He may not have gotten drafted, but Lindsay has well and truly seized the unsettled situation in Denver's backfield to become their No. 1 ballcarrier. He has 780 yards so far in his rookie season with six rushing touchdowns. He's also proven himself a weapon in the passing game with 24 catches for 187 yards and a touchdown. The Broncos finally seem to be giving him a bulk of the carries, and it's paying off for them.
Detroit Lions: Kerryon Johnson, RB
The Lions' run game has been infamously inept for the better part of the last five seasons, but they look to have something to work with in the rookie out of Auburn. Johnson became the Lions' first 100-yard rusher in a single game since 2013 in Week 3 — and did it again four weeks later. He has 641 rushing yards overall and four total touchdowns as he's also a force in the passing game. Only a knee injury has slowed him down.
Green Bay Packers: Davante Adams, WR
Adams was very much a known commodity before this season and nearly had a 1,000-yard receiving season in 2016. Despite this, he's never quite been Aaron Rodgers' undisputed favorite target. He is now. At 1,022 yards, he's achieved his first career 1,000-yard season. He also has 10 touchdowns and is on his way to a career-high mark (12 in 2016 is his tops). Always good, Adams has finally moved into the ranks of the elite.
Houston Texans: Benardrick McKinney, LB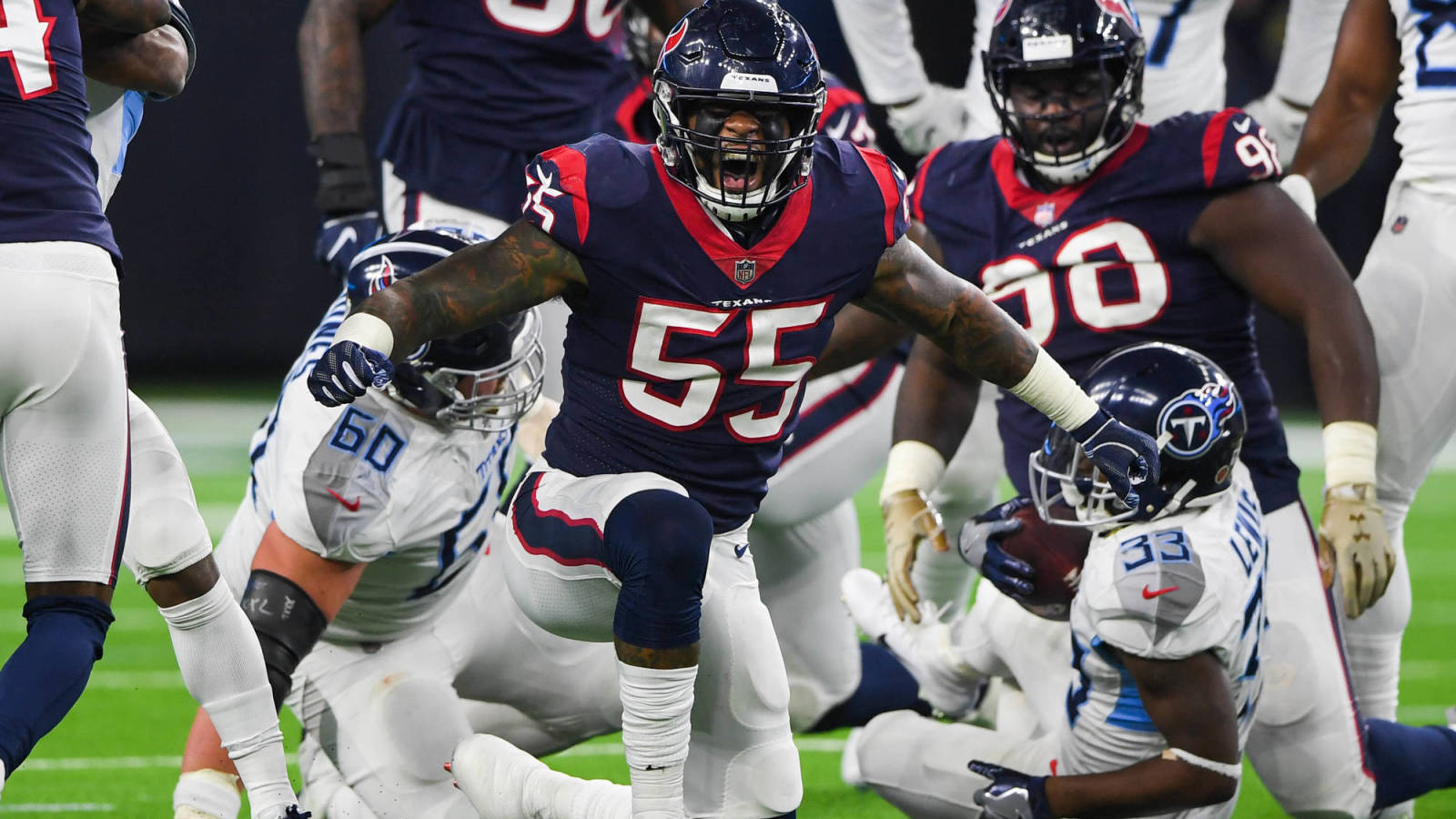 Shanna Lockwood-USA TODAY Sports
McKinney is finally being recognized as one of the very best inside linebackers in the league. A second season with 100 total tackles looks to be within his reach as he continues to contribute all over the field, with a couple of passes defended and a sack-and-a-half to go with his impressive tackle tally. He's overshadowed by star pass rushers J.J. Watt and Jadeveon Clowney in the Houston defense, but he's every bit as vital to their success.
Indianapolis Colts: Eric Ebron, TE
A former 10th overall pick, Ebron was regarded as a disappointment in Detroit where he was plagued by dropped passes and never lived up to expectations. A change in scenery appears to be exactly what he needed, as he's now thriving in the Indianapolis offense. He's forged a great connection with Andrew Luck, and his 11 touchdown catches more than doubles his previous career best of five. He's turned into a red zone monster, and Luck seems to love throwing to him.
Jacksonville Jaguars: T.J. Yeldon, RB
Thanks to Leonard Fournette's recurring injury problems, Yeldon has gotten plenty of reps this year. He may not be as good a pure back as Fournette, but he's very much a quality offensive weapon. He's become a contributor out of the backfield in both the passing and rushing games, with 385 rushing yards to go along with 423 receiving yards and four touchdown receptions. One thousand all-purpose yards looks to be an achievable goal if the Jags give him some more playing time.
Kansas City Chiefs: Patrick Mahomes, QB
Mahomes went from not starting last season to a potential MVP candidate in this one, and the Chiefs have handled him and his development absolutely perfectly. He's won nine of his 11 starts, leads the league with 37 touchdown passes and has mostly taken care of the ball, too, with 10 interceptions. In other words, he's been one of the NFL's best quarterbacks and possibly the breakout star of the entire season.
Los Angeles Chargers: Derwin James, S

Kirby Lee-USA TODAY Sports
Injury cost James pretty much his entire final season at Florida State and dropped him to 17th in April's NFL Draft. The Chargers are the ones reaping the benefits of his misfortune. James has quickly established himself as a do-everything defender in his rookie year with Los Angeles, and the stats bear that out. He has 78 total tackles, nine passes defended, 3.5 sacks and two interceptions. That's making an impact in every single department, and he looks like a future star.
Los Angeles Rams: Robert Woods, WR
Woods was a decent receiver in Buffalo but never looked like a No. 1. His move to the Rams and Sean McVay's elite offense has been just what his career needed. He's at 904 receiving yards — very much on pace for the first 1,000-yard season of his career. Though he only has four touchdown catches, he may see more opportunities now that Cooper Kupp's season is unfortunately over. Woods is now a key part of an elite passing attack and looks like much more than he ever was with the Bills.
Miami Dolphins: Xavien Howard, CB
In only his third NFL season, Howard has quickly and quietly developed into one of the league's elite young cornerbacks. He has 10 passes defended and five interceptions in 11 games as he often deals with the opponent's top receiving threat — usually successfully. Impressively, four of his picks have come in two games — two off Derek Carr and two off Andrew Luck. His rise has been quick, but the Dolphins have something special here.
Minnesota Vikings: Danielle Hunter, DE
Hunter's second NFL season saw him collect 12.5 sacks, but he dropped down to seven last year. With Everson Griffen's off-field issues coming to the forefront, Hunter has become the leader of the Minnesota defensive line and is having something of a second breakout in the process. He's at 11.5 sacks and looks sure to surpass that previous best, and his 15 quarterback hits demonstrates that he gets into the backfield with regularity. His 16 tackles for a loss are a career-best as well.
New England Patriots: James White, RB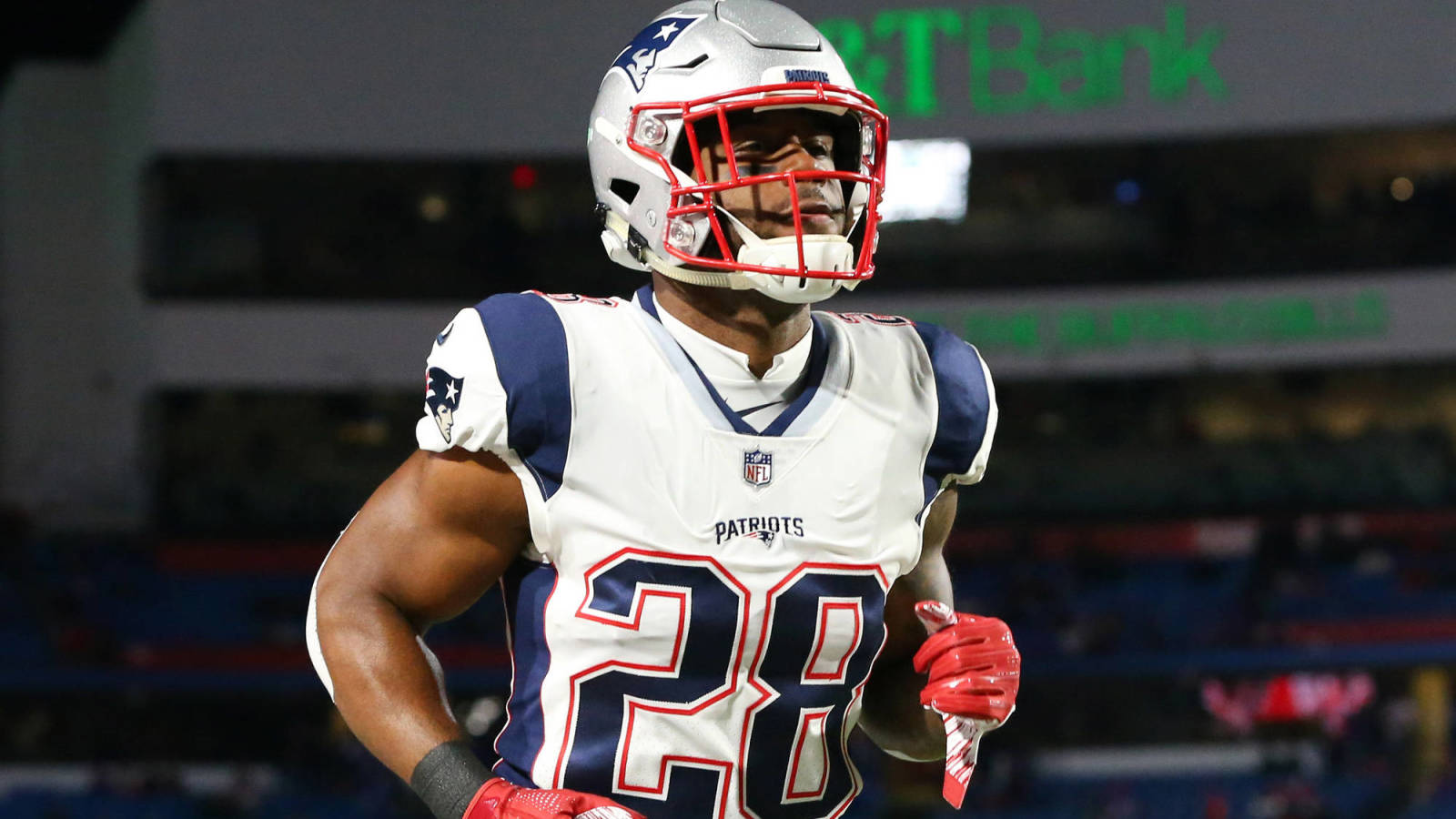 Rich Barnes-USA TODAY Sports
White has become vital to the New England passing game, even as Sony Michel gets a good amount of the actual carries on the ground when healthy. White still gets his fair share and takes advantage — his 303 rush yards and four touchdowns on the ground are nothing to scoff at. He's really established himself as a receiver — catching six touchdowns to go with 567 receiving yards. He actually leads the team in targets, as Tom Brady looked to him frequently with Julian Edelman sidelined, making him a vital part of the Patriot attack.
New Orleans Saints: Sheldon Rankins, DT
Rankins was considered one of the top pass rushers in his class when the Saints selected him 12th overall in the 2016 draft. In his first two seasons, he didn't really live up to expectations with just six total sacks in his first two campaigns. His third looks to be much more in line with that New Orleans was expecting. He has seven sacks, already topping his previous high, as well as 12 QB hits and 10 tackles for a loss. He looks to finally be progressing into a steady, reliable starter.
New York Giants; Saquon Barkley, RB
It's been a very ugly year on the whole for the Giants, but Barkley has been everything they could have hoped for and then some. He's a massive threat out of the backfield in both rushing and receiving. He's averaging 4.8 yards per carry as the Giants lean heavily on him, and his 581 receiving yards aren't far behind his rushing total. He has 12 total touchdowns, as well, and is well past 1,400 all-purpose yards. At least the Giants have him as a clear building block to use as their centerpiece.
New York Jets: Darron Lee, LB
Drafted with high expectations in the first round of the 2016 draft, Lee's first two NFL seasons were marred by inconsistency and became the subject of criticism. He's taken a big step forward in his third year, becoming a very solid coverage linebacker for a struggling Jets team. This season has seen Lee pick off his first three passes, and he even has a defensive touchdown to his name. It took a while, but he looks to be rounding into form and becoming what the Jets were hoping for.
Oakland Raiders: Jalen Richard, RB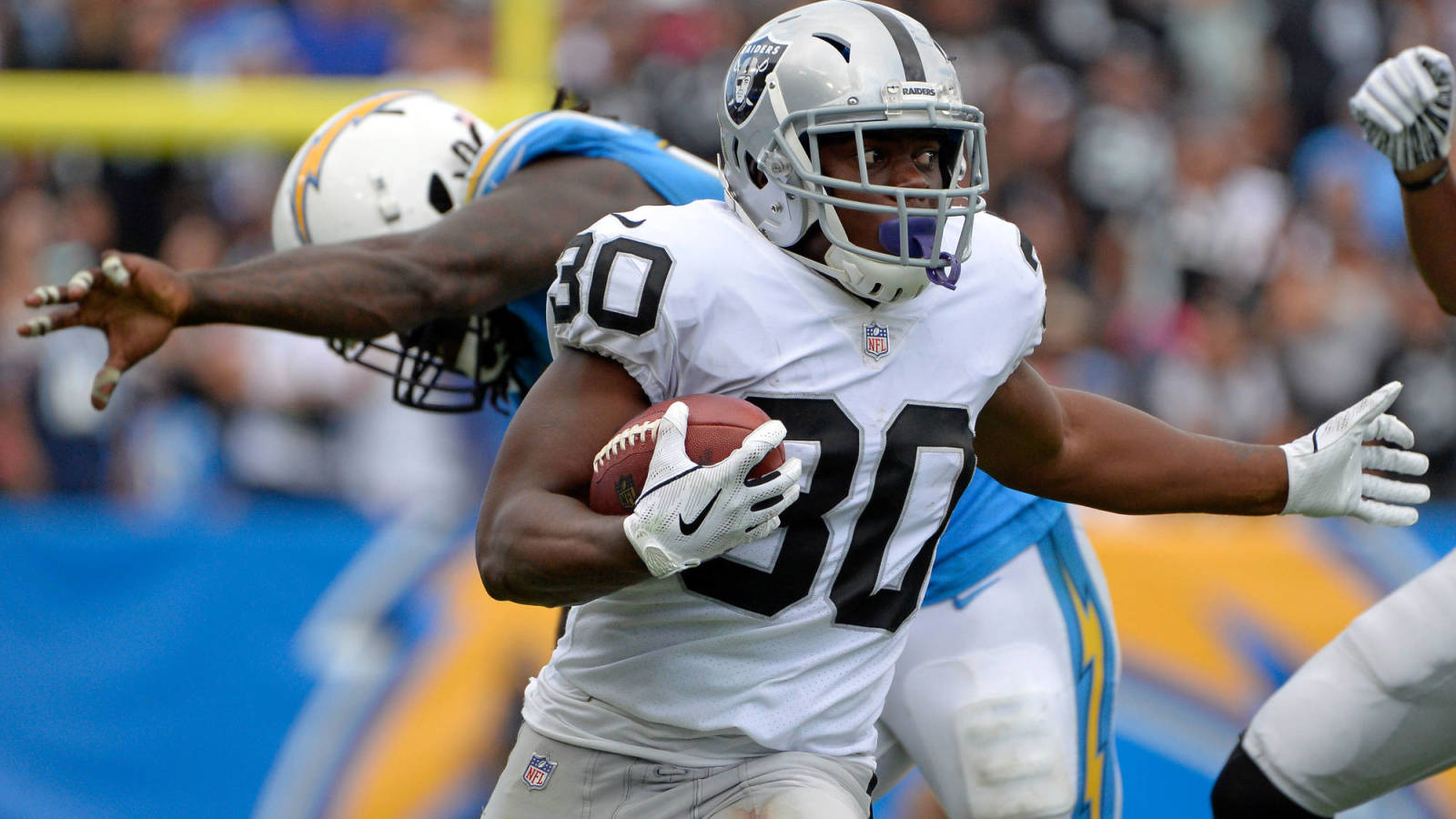 Jake Roth-USA TODAY Sports
Richard has been thrust into a pretty big role in the Oakland offense after Marshawn Lynch went down with an injury. The third-year back is utilized sparingly in the ground game with veteran Doug Martin getting the bulk of carries in Lynch's absence, but he has become a key cog out of the backfield in terms of the passing game. Though he has yet to find the end zone, he has 447 receiving yards. Only tight end Jared Cook has been targeted more this season.
Philadelphia Eagles: Jordan Hicks, LB
Hicks appeared headed for stardom before an Achilles injury cost him the bulk of 2017 and kept him from participating in Philadelphia's memorable Super Bowl run. He's making up for lost time in 2018, even though he's been slowed by a calf injury lately. He's not quite back to picking off passes, but the fourth-year linebacker has 85 total tackles and looks set to blow past his career-best. He's also getting into the backfield more with six QB hits and five tackles for a loss. He's a slightly different player than he was pre-injury, but perhaps a more important one.
Pittsburgh Steelers: James Conner, RB
The instability surrounding the Le'Veon Bell situation could have easily spiraled out of control and thrown Pittsburgh's season into turmoil. Thanks to Conner, nothing of the sort has happened. Thrust into the lead back role, Conner has five 100-yard games to his name and has also been a major contributor to the passing game. He has 10 rushing touchdowns, is well on his way to 1,000 yards and will probably surpass 1,500 total yards.
San Francisco 49ers: Matt Breida, RB
Jerick McKinnon's preseason injury hasn't quite hurt the 49ers as much as they may have feared thanks largely to Breida's emergence as a starting-quality NFL back. He's another player who looks like he has a real chance of making it to the 1,000-yard plateau for the first time, with 738 through 11 games. He might fall a bit short, but the fact that he's going to come close on a Niners team going nowhere is definitely a statement that he's a pretty good NFL running back. As an added bonus, he seems to shine despite battling injuries.
Seattle Seahawks: Jarran Reed, DT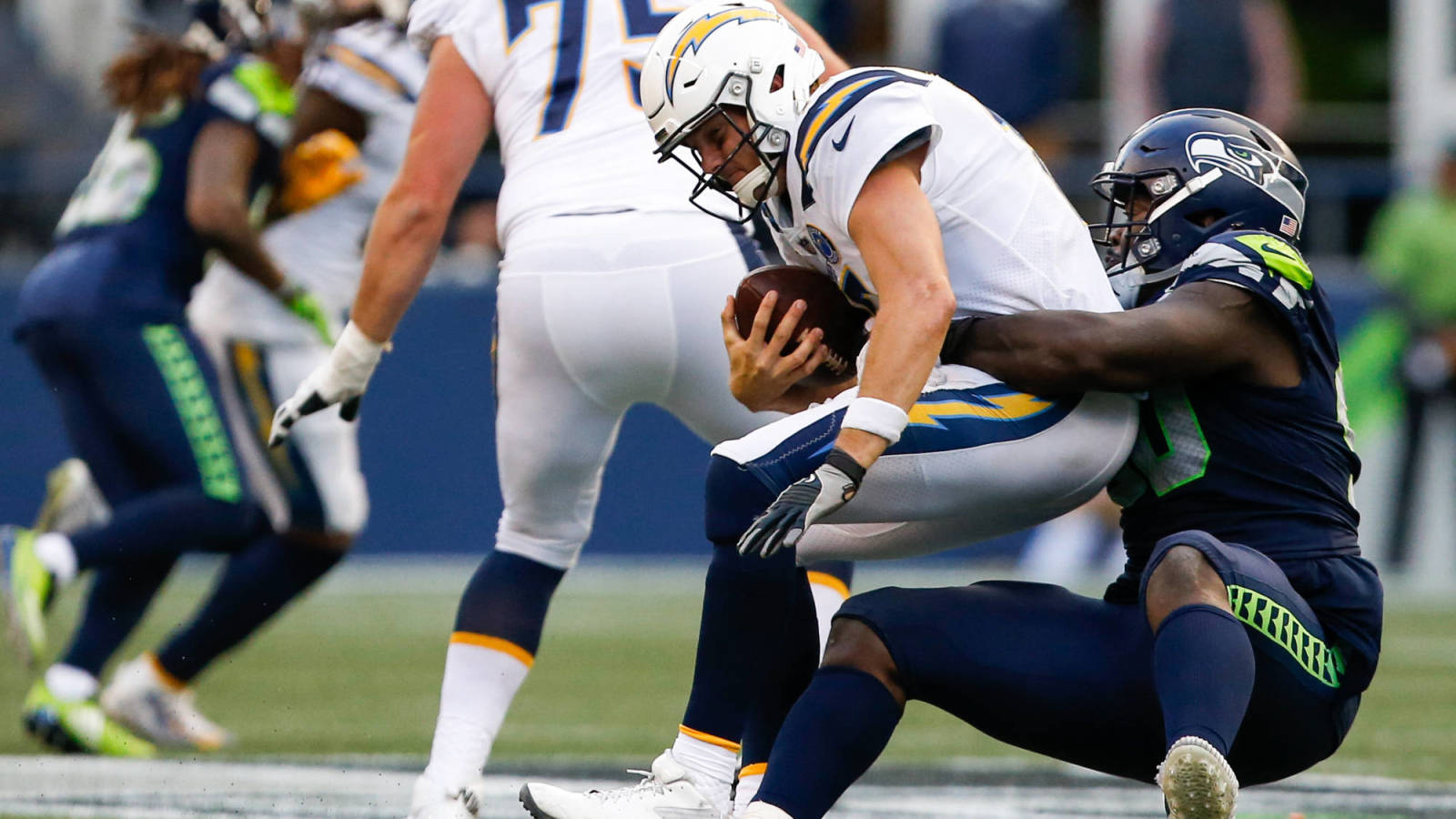 Joe Nicholson-USA TODAY Sports
Reed's credentials as a run-stopping defensive tackle were never really in doubt, but something shifted in 2018 and he's turned into a very good pass-rusher as well. Take the five sacks as evidence — two more than he had in his first two NFL seasons combined. He continues to pierce the backfield, too, with 11 quarterback hits — also topping his previous best. That development has ensured that the Seahawks' defense hasn't taken a huge step back this year.
Tampa Bay Buccaneers: O.J. Howard, TE
Only in his second NFL season, Howard was progressing into the upper echelon of the NFL's receiving tight ends until suffering season-ending injuries. He showed a whole lot of promise in his rookie year and improved upon it, with 565 receiving yards and five touchdowns. The former is already the best mark of his career, while the latter was easily on pace to surpass his six from last season. Howard looks like every bit the weapon the Bucs thought he was when they drafted him.
Tennessee Titans: Corey Davis, WR
The fifth overall pick in 2017 had, by all accounts, an underwhelming rookie year. He was held to just 375 yards and didn't score a touchdown while battling injuries. Things have changed. Davis is now comfortably Tennessee's leading receiver with 702 yards, and he's scored the first three touchdowns of his NFL career. That number is still low, but there's plenty of reason to believe it will go up. The fear last year was that Davis would be a bust. That does not appear to be the case anymore.
Washington Redskins: Matthew Ioannidis, DT
Ioannidis' emergence in the Washington pass rush is a big reason why they've been one of the NFC's most pleasant surprises. A former fifth-round pick, the third-year pro has emerged onto the scene with 7.5 sacks in 11 games so far in 2018 — along with 11 quarterback hits. He's very rapidly developed into a leading pass rusher out of nowhere and is showing no sign of slowing down. As long as he keeps it up, a double-digit sack season will happen for him this year.
#SAINTSNEWS #SAINTS #YARDBARKER